Diwali – The Festival of Lights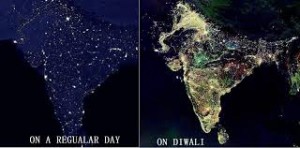 The United States isn't the only country that uses fireworks to celebrate a holiday. In India, Malaysia, Nepal, Singapore and Sri Lanka, Diwali (also known as the Festival of Lights) is celebrated every autumn. The Festival is a celebration of the victory of light over darkness and good over evil, and is arguably the most significant Hindu festival. The celebration wouldn't be complete without thousands of fireworks displays that span over the course of five days. The celebration is so bright,  it can be seen from outer space.
The most commonly used fireworks for Diwali are ground based fountains.  Fountains are long lasting fireworks, and they produce plenty of color and sound.  Keystone Fireworks customers from New York, Maryland, Pennsylvania and surrounding areas can find a huge selection of fountains for Diwali at our superstores.  To browse our entire collection of fountains, Click Here.